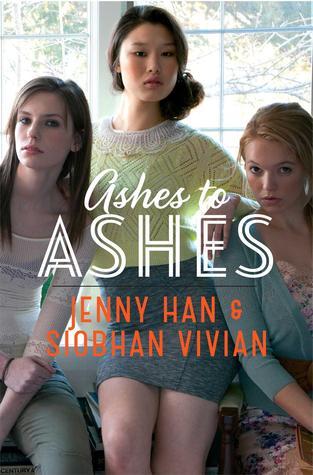 Synopsis
Note: Book #3 in a series. Read Burn for Burn and Fire with Fire first. 
New Year's Eve ended with a bang and Mary, Kat and Lillia may not be prepared for what is to come.
After Rennie's death, Kat and Lillia try to put the pieces together of what happened to her. They both blame themselves. If Lillia hadn't left with Reeve… If Kat had only stayed with Rennie… Things could have been different. Now they will never be the same.
Only Mary knows the truth about that night. About what she is. She also knows the truth about Lillia and Reeve falling in love, about Reeve being happy when all he deserves is misery, just like the misery he caused her. Now their childish attempts at revenge are a thing of the past and Mary is out for blood. Will she leave anything in her wake or will all that remain be ashes?
 Review
"Life is long if you let it be."
Ghosts creep me out a TON. I still have an overactive imagination and get paranoid. How fitting is it that I finished this book on Halloween? The day that spirits are the most active. I still remember when Mary felt so vibrant in the cornfield. That felt like eons ago, because so much happened in this series since then. It started as a mostly contemporary story, but definitely got more supernatural.
I feel like we got closure, but didn't at the same time. I hope Aunt Bette found her peace, for example. A lot of things happened to a lot of people. I'm glad some holes and paranormal things got explained, although some of the Occult book descriptions were almost… a cop-out. Also, there's definitely a shallow underlying theme that seems really disapproving and judgmental of suicide, and handles that issue too lightly. A lot of people struggle with those thoughts, so I don't like how Mary was dehumanized for her actions. She really did go through so much, you know?
The pathetic romantic in me yearns for Lillia and Reeve. I feel like she fell into whatever came to her, like Katniss after Mockingjay. Reeve was her Gale. But at the same time, this ending was so much more realistic. In life, you usually don't end up with your first love. You go different places, you lose touch, and you move on. As for Kat, I think she really got the short end of the stick. She truly cared for Mary, but Mary couldn't see it. I guess that's what happens when your sole purpose is revenge. She did so much work to help and protect the people she loves. But I'm sure she found happiness in New York and Brooklyn (could there be a more perfect place for her?). I'm sure she found "her" people. I got a sense of that, anyway.
I liked the ending. Only you can set yourself free.
Related Reading
Burn for Burn – Jenny Han & Siobhan Vivian (read this first!)
Fire with Fire – Jenny Han & Siobhan Vivian (read this second!)
We Were Liars – E. Lockhart (beautiful, dark, and twisted)
Before I Fall – Lauren Oliver
Rating: 5/5